In recent years, there has been a significant shift in lifestyle preferences, with more and more individuals actively seeking to improve their overall health and well-being. Instead of focusing solely on preventive measures, people are embracing a proactive and well-being-oriented approach to life. This paradigm shift has paved the way for the emergence of innovative solutions in the healthcare and well-being industry that support and enhance individuals' physical and mental well-being.
The organizations that stand out in this realm are revolutionizing the way people approach health and wellness through their unique combination of gamification and wearable connections. They seamlessly integrate technology and human motivation. These organizations are featured in Insights Care magazine's 5 Best Health Wearable Service Providers for Healthy Lifestyle –
These companies have been instrumental in transforming lives and empowering individuals to lead healthier and more fulfilling lifestyles.
Especially, WeFitter recognizes the growing importance of health and fitness applications and accessories in improving consumers' overall well-being. These applications address critical factors such as sleep quality, diet and nutrition, and even menstrual cycles. Wearable health devices equipped with advanced sensors allow users to monitor their heart rate, pulse rate, and track physical activities, providing valuable insights into their fitness journey.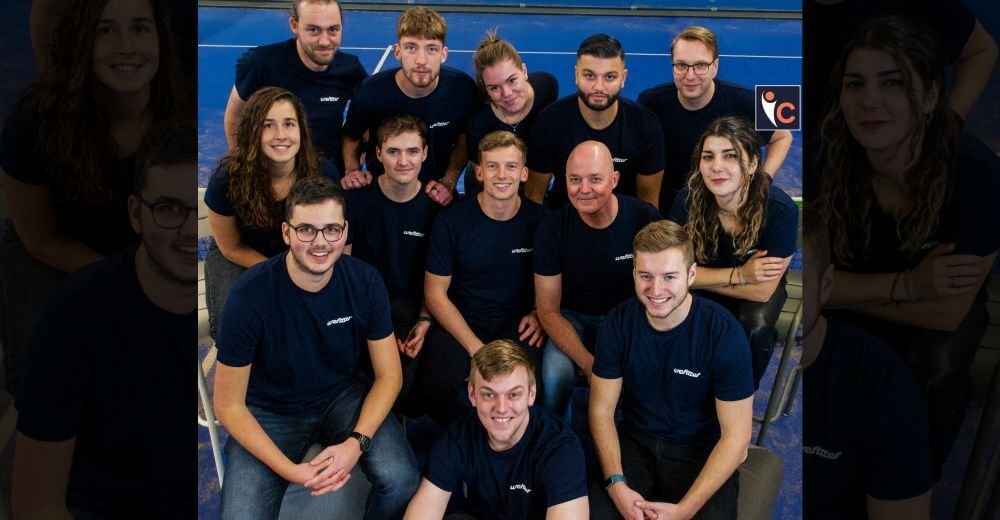 One of the remarkable features of WeFitter is its ability to offer a comprehensive and easy-to-integrate health API that combines various wearable connections. This feature saves the company's partners considerable time and effort, as they can integrate multiple wearable brands and connections in a matter of hours. By consolidating these connections, WeFitter enables its partners to provide a seamless user experience and a wide range of health and wellness insights.
However, WeFitter doesn't stop at integration; it takes the concept of gamification to a whole new level. Through its gamification features, WeFitter enhances engagement and retention, motivating users to embrace healthier lifestyles. With a personalized dashboard, WeFitter allows clients to create challenges, form teams, earn points, badges, and more, fostering a sense of community and healthy competition among users. This gamified approach has proven to be highly effective in encouraging individuals to initiate and maintain healthy habits.
Moreover, WeFitter's team is continuously working on incorporating artificial intelligence (AI) into their platform to offer even more personalized experiences and predictive health statistics. One of their newest AI-powered modules aims to provide dynamic biological age estimation based solely on wearable data. The underlying principle is that biological age serves as a powerful motivator for people to adopt healthier lifestyles. To develop this module, WeFitter has partnered with the prestigious Amsterdam University Medical Centre, which conducts extensive research on aging and physical activity.
WeFitter goes beyond providing a gamified platform; it offers a wide range of pre-built gamification experiences that its clients can leverage. With a wealth of building blocks, WeFitter empowers its partners to create engaging front-end interfaces that align with their platform's goals and use cases. Additionally, WeFitter provides onboarding support, ensuring that partners have the best possible setup to drive user engagement and success.
Privacy and data security are paramount in the world of wearable technology. WeFitter understands the sensitivity and personal nature of wearable data and adopts a privacy-by-design approach. The company does not store any personal information of end-users or consumers in its system, nor does it require such data to operate effectively. This approach ensures compliance with regulations like GDPR and HIPAA, and WeFitter is certified with ISO 27001 and NEN 7510 data security certificates.
WeFitter offers flexible pricing packages to cater to the diverse needs of its customers. Whether it's OEM or fixed-fee models, WeFitter strives to find the best fit for each client's business model. Scalability is another key advantage, as WeFitter's solution can handle high volumes of data with ease, regardless of the number of end-users. The cost per user decreases as the number of users increases, making it a cost-effective solution for engaging large user bases.
Industry leaders have recognized the transformative impact of WeFitter's gamification and wearable connections on health and wellness. Co-founder & MD of Champ, Michiel, emphasizes the importance of trustworthy partnerships and acknowledges WeFitter's understanding of the industry. Similarly, Rosanne, Co-founder of HealthBlocks, praises WeFitter for unlocking the value of health data through their wearable connections, empowering users. The Director of New Products and Digital Services at Sanitas, Jesus, highlights the significance of WeFitter's contribution in providing healthcare advice based on wearable data. These testimonials reflect the positive impact WeFitter has had on various businesses and their customers.
Looking ahead, WeFitter aims to establish itself as a market leader in digital health solutions and wearable connections APIs. The company envisions leveraging AI-powered modules to add further value to its existing products. Ultimately, WeFitter's mission is to create a healthier world by offering easy-to-integrate building blocks for health platforms.
The journey of WeFitter is guided by a passionate leader, let's call him Nick, who has always been an avid sports enthusiast. His background in Human Resources and entrepreneurial spirit led him to connect with Thunderbyte.AI, the organization behind WeFitter. Over the years, WeFitter has grown under Nick's leadership, driven by his unwavering dedication to its success.
Ashva Wearable Technologies Pvt Ltd (Ashva) is a healthcare technology company that aims to decentralize and democratize musculoskeletal healthcare. They provide innovative solutions to make physiotherapy data-driven and accessible to all. Their flagship product, fitknees, is an AI-enabled motion sensor-based system that generates detailed data analytics reports to track the progress of knee therapy. They also offer fitmust, a device for isometric muscle strength testing. These wearable technologies are designed to be affordable and seamlessly integrated into clinical practice, with the goal of democratizing musculoskeletal healthcare.
The company was inspired by the founder's personal experience of knee injury and his desire to prevent others from experiencing similar pain. Their mission is to make physiotherapy data-driven and ensure that everyone has access to high-quality healthcare. Ashva's core values include a patient-centered design philosophy, affordability, precision, and simplicity in their products and work.
Ashva's products and services support the healthcare needs of patients, particularly related to knee health. Fitknees measures various parameters such as range of motion, balance, walking patterns, and proprioception. Fitmust quantifies muscle strength in upper and lower limbs. These tools provide clinicians with valuable insights and help monitor patient progress.
The company conducts specialized research and development operations in electronics design, product design, AI/ML engineering, and app development. They believe that these efforts are essential for developing innovative healthcare solutions and improving the efficiency of healthcare delivery.
To improve service measures, Ashva invests in technology, conducts client-focused research, provides training and development to employees, and emphasizes collaboration and engagement with clients. They actively seek feedback and aim to establish strong relationships based on trust and respect.
In terms of scaling their services and operations, Ashva aims to partner with 150 orthopedic and physiotherapy clinics in 2023, with the goal of achieving US FDA compliance in 2024. They plan to integrate additional software features for running and return-to-sports analytics to cater to athletes' needs. By 2024, they aspire to establish themselves as a leader in the global healthcare industry, known for high-quality and scientifically-backed solutions at an accessible price point. They are committed to advancing Indian healthcare products on the global stage.
Biostrap: is a company that provides customized digital health solutions through its biosensor-based digital biomarker platform. They offer wearable devices and software tools that enable remote monitoring of biometric data, cloud processing, AI-driven insights, and integration options. Unlike other wearables, Biostrap's devices save raw health data, allowing for in-depth analysis of health biometrics using high-resolution measurements. The company aims to empower individuals to take control of their health by providing reliable and actionable health insights. They focus on delivering clinical-grade data and enhancing remote patient monitoring processes.
Biostrap's core products include wearable devices that capture high-fidelity data and a cloud-based AI and machine learning system called the Pulse Engine for data analysis. The company is dedicated to continuous research and development to improve healthcare solutions by offering real-time monitoring, objective measurements, and longitudinal data sets. They prioritize client feedback and strive to provide comprehensive solutions. Biostrap is entering the clinical research and clinical care markets with their medical-grade biosensor device called Ethos. The company aims to scale its services and operations, positioning itself as a leader in remote patient monitoring. They have received recognition from clients, including testimonials from healthcare professionals who value the accuracy and reliability of Biostrap's wearable devices for research and biomarker development.
KOMODO Technologies: is a company that specializes in developing and providing innovative health monitoring technology, specifically in the form of wearable devices. They aim to make health data reliable, accessible, and cost-effective for the average consumer. Their flagship product is the AIO Smart Sleeve, a smart wearable compression sleeve that pairs with a smartphone app via Bluetooth.
Unlike traditional wearable devices that focus on limited themes such as motivation and accountability, KOMODO's AIO Smart Sleeve incorporates a personal EKG monitor to capture electrical signals and activity of the user's heart rate variability (HRV). This enables the device to provide more accurate information on heart health, stress levels, daily readiness, body recovery, and other related metrics.
The company's mission is to bridge the gap between affordability and reliability in health monitoring technology, offering high-quality devices and software solutions at a reasonable price. They believe that health devices should be accessible to all, and their products aim to democratize health monitoring by providing state-of-the-art tools that are easy to use and cost-effective.
KOMODO's smart wearable compression sleeve can monitor various important biomarkers such as heart rate, EKG/ECG, sleep analysis, activity intensity, and stress levels. The data captured by the sleeve is immediately visible on the smartphone app, and for trainers, clinics, researchers, and employers, there is an online dashboard to securely view and manage multiple users' data.
The company is committed to empowering individuals to take control of their health and gain valuable insights into their internal well-being. They incorporate AI functions and heart rate variability analysis to extract additional health data and improve the user experience. KOMODO's technology is constantly evolving, with yearly improvements and advancements in health analytics to provide users with better information about their internal health.
Data security and customer privacy are priorities for KOMODO. They have built their own backend for data storage, ensuring independence from major tech platforms and implementing encryption to protect user data.
Looking ahead, KOMODO is working on developing a corporate wellness solution focused on health biometrics. They aim to equip various industries, including police departments, first responders, firefighters, and the military, with health diagnostics to reduce harm and casualties. Additionally, they plan to provide companies with tools to monitor the health and well-being of their employees, recognizing human capital as a critical input.
Overall, KOMODO Technologies aims to revolutionize health monitoring by providing reliable, accessible, and cost-effective wearable devices and software solutions that empower individuals to take charge of their own health.
X-trodes is a biotechnology company that specializes in improving the quality of life through its innovative wearable technology. Their flagship product is a wireless, flexible, ultra-soft dry multi-electrode patch array system that utilizes self-test skin electrophysiology technology. This device is capable of understanding, predicting, and improving the body's electrophysiological outcomes.
The company's methodology is based on flexible sensors, a miniaturized high-end, low-noise Bluetooth amplifier, and cloud-based artificial intelligence analysis. This allows users to easily access and analyze their health data via PC, tablet, or smartphone. X-trodes aims to empower consumers by enabling them to track and measure their health in their own homes, reducing costs and improving overall quality of life.
The company's smart wireless device has applications in various areas:
Health: It serves as a medical-grade electrophysiology system for diagnosing and monitoring sleep disorders, cardiovascular diseases, epilepsy, and other conditions.
Research: X-trodes expands the possibilities of physiology, cognitive, and emotional research beyond the limitations of traditional laboratory settings.
X-trodes' CEO, Ziv Peremen, emphasizes the company's goal of bridging the gap between the healthcare industry and consumers. They strive to provide innovative and reliable health wearables that enable people to take control of their health and personal wellness.
In terms of future plans, X-trodes is awaiting FDA clearance to launch its clinical product. In the meantime, they are providing access to researchers and clinicians to purchase the system for research purposes. They are also continuously working on improving their services, such as developing a new mobile app, upgrading the cloud interface, and enhancing the sensor attachment process.
Overall, X-trodes envisions improving global health and well-being by leveraging unique data and creating a new generation of electrophysiology solutions that combine medical-grade quality with consumer usability in natural environments.
In conclusion, the combination of gamification and wearable connections has transformed the lives, health, and wellness of individuals. Companies like WeFitter, Ashva Wearable Technologies, Biostrap, KOMODO Technologies, and X-trodes have played a pivotal role in revolutionizing the healthcare and well-being industry.
WeFitter stands out with its comprehensive health API that integrates various wearable connections, allowing partners to provide seamless user experiences and a wide range of health insights. The company's gamification features enhance engagement and retention, motivating users to adopt healthier lifestyles. WeFitter is also incorporating artificial intelligence (AI) to offer personalized experiences and predictive health statistics.
Ashva Wearable Technologies focuses on decentralizing and democratizing musculoskeletal healthcare. Their products, such as fitknees and fitmust, offer affordable and data-driven solutions for knee therapy and muscle strength testing. Ashva's commitment to research and development and strong client relationships contribute to their goal of advancing Indian healthcare products globally.
Biostrap provides customized digital health solutions through its biosensor-based digital biomarker platform. Their wearable devices and software tools enable remote monitoring of biometric data, with a focus on delivering clinical-grade data and enhancing remote patient monitoring processes. Their dedication to continuous research and development ensures reliable and actionable health insights for individuals.
KOMODO Technologies aims to make health monitoring accessible and affordable for all. Their AIO Smart Sleeve, which incorporates a personal EKG monitor, provides accurate information on heart health, stress levels, and more. The company prioritizes data security and customer privacy while constantly evolving their technology and incorporating AI functions for better health analytics.
X-trodes specializes in wearable technology that improves the quality of life through self-test skin electrophysiology. Their wireless, flexible, and ultra-soft patch array system enables users to understand, predict, and improve their body's electrophysiological outcomes. By empowering consumers to track and measure their health at home, X-trodes reduces costs and enhances overall well-being.
These companies share a common vision of empowering individuals to take control of their health and well-being. Through innovative wearable technology, they offer reliable and actionable health insights, bridge the gap between healthcare and consumers, and improve the quality of life for people worldwide.
-By Chidiebere Moses Ogbodo