CpG Methylation Influence on Protease Serine 3 Isoforms in Lung Cancer
Lin et al. investigated the UHRF1/DNMT1–MZF1 axis in the context of CpG methylation of protease serine 3, a protein with several isoforms that show paradoxical effects. To differentiate the isoforms, the researchers employed 7-marker multiplex staining and performed a quantitative analysis using TissueFAXS SPECTRA and StrataQuest.
Case Study: Ki-67 Nuclear Staining Analysis with IHC 2 APP
The aim of the following case study was to quantitatively analyze a colon tissue section stained for hematoxylin (nuclei) and Ki-67 (proliferation marker). The focus was on the detection of (i) the total number of cells as well as (ii) the number and % of Ki-67 positive cells. This basic application was performed using StrataQuest.
20 Years of TG – More than 2300 Publications
This year TissueGnostics is celebrating its 20-year anniversary! We are happy to announce that TG's tissue cytometry solutions are being used for high-impact research worldwide. Our database comprises more than 2300 scientific publications, in more than 800 different peer-reviewed journals, from research groups in almost 70 countries on 6 different continents.
Activated Erk 1/2 Kinases Decrease Cell Viability Caused by Erastin in HNSCC
Savic et al. investigated the Erk 1/2 pathway role in ferroptosis induction by targeting xCT protein during the treatment of HNSCC. They found erastin to be a potent ferroptosis inducer which is strongly dependent on Erk 1/2 kinases. TissueFAXS and HistoQuest were used to image the IHC-stained samples and calculate the percentage of xCT-positive cells.
Experience TissueGnostics' Streamlined Image Analysis Solutions
New exciting Apps are online now. Look through TissueGnostics' StrataQuest Apps and get inspired by the variety of biomedical image analysis applications. If you cannot find the perfect solution for your research question, please contact us. TissueGnostics offers the development of customized Apps for your specific analysis needs.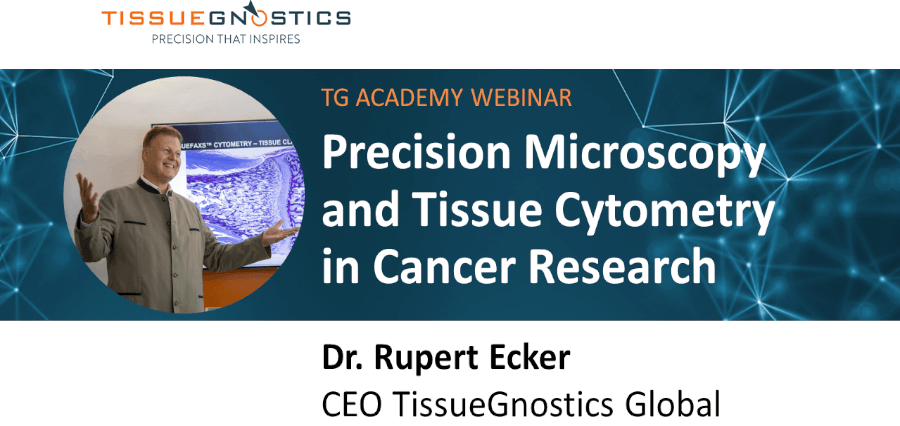 Webinar: Precision Microscopy and Tissue Cytometry in Cancer Research
In this webinar, Dr. Rupert Ecker, TissueGnostics´ CEO and QUT Adjunct Professor, discusses the possibilities of precision microscopy and tissue cytometry in oncology research at the Translational Research Institute (TRI), Queensland University of Technology.
Read More: Click Here